Conference Week RRR2017 - Renewable Resources from Wet and Rewetted Peatlands
Welcome Message
Given the great potential of peatland rewetting for climate change mitigation, innovative land use concepts for wet peatlands are crucial. The first RRR conference on the utilisation of wetland plants (paludiculture) was held in 2013 in Greifswald. The partners in the Greifswald Mire Centre were invited in 2017 to continue this dialogue and to use RRR conference week as a platform for exchange.
Concluding Statement of the RRR2017 Conference
This final statement is an outcome of the second international conference on the utilisation of wetland plants "Renewable Resources from Wet and Rewetted Peatlands" (RRR2017).
Concluding statement of the RRR2017 conference (pdf | 0.5 MB)
RRR2017 - Conference Week
In September 2017, the Greifswald Mire Centre hosted a conference week on paludiculture. It included a national conference "Paludiculture in Germany", excursions, an international conference on paludiculture and an international workshop on Sphagnum farming.
Supporting Program
Evening Program
The conference week included a diverse evening program. In addition to the conference dinners there were a vernissage, a "mire theater", as well as a presentation and other events.
Poster Exhibition
In additional to the talks the conference hosted a poster exhibition.
Conference Dinner
The highlight of the evening events was the conference dinner.
Networking Evening
At the networking evening the participants had the opportunity to make new connections and deepen existing ones.
Exhibition
The RRR2017 provided space for contractors, manufacturers and any other stakeholders to present their relevant products and projects at an indoor and outdoor exhibition.
Details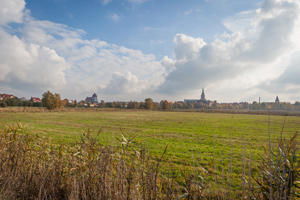 Venue
Greifswald is surrounded by reeds. Along the Baltic coast, the inland lake shores and the streams in ice marginal valleys, thick peat deposits illustrate the lasting influence of reeds on the land of Mecklenburg-Vorpommern. As a result, peatland studies have a history of 200 years in Greifswald. Over the last 20 years research focussed on peatland restoration and sustainable peatland utilisation.
Event Organization
Susanne Abel, Tobias Dahms, Greta Gaudig, Anke Nordt, Sabine Wichmann, Dr. Franziska Tanneberger & Dr. Wendelin Wichtmann
Host Institution
The Greifswald Mire Centre is the interface between science, policy and practice in all peatland related questions – locally and globally. It unites some 50 peatland experts in one place. Partners in the Greifswald Mire Centre are the University of Greifwald, the Michael Succow Foundation and DUENE e.V. The Greifswald Mire Centre offers science-based solutions for social challenges related to peatlands such as climate protection, biodiversity conservation and sustainable use.