Fen biomass heating plant in the city of Malchin
Since June 2014 the biomass boiler in the city of Malchin is providing heat for 540 households, a kindergarten, two schools and serveral office buildings. The biomass fuel for the heating plant is produced on wet fen meadows at lake Kummerow, Mecklenburg-Vorpommern.
Harvesting areas
The city of Malchin is situated at the western end of the Peene valley in NE Germany. With 17,810 ha of peatlands, the Peene valley is one of largest fen areas in Germany. The fens had been drained for agriculture but were rewetted during the 90s. The meadows of the local farmer Hans Voigt lake Kummerow were affected by the rewetting of the adjacent Penne valley area. He therefore had to find new ways to use the changing vegetation which was no longer feasible as fodder for his cattle.
During an R & D project together with the University of Greifswald, using the biomass as solid fuel was tested and identified as a promising solution. In the following years, the farmer brought together different stakeholders in the nearby city of Malchin to realize the integration of an adapted biomass boiler in the existing heating grid. There the biomass is used to replace a natural gas fired boiler.
The vegetation of wet fen meadows at lake Kummerow is dominated by reed canary grass and sedges. The yields in 2013 had been Ø 4.5 and. Ø 6 t DM per hectare. The fen meadows covers an area of ca. 300 ha, however harvestability depends on weather conditions.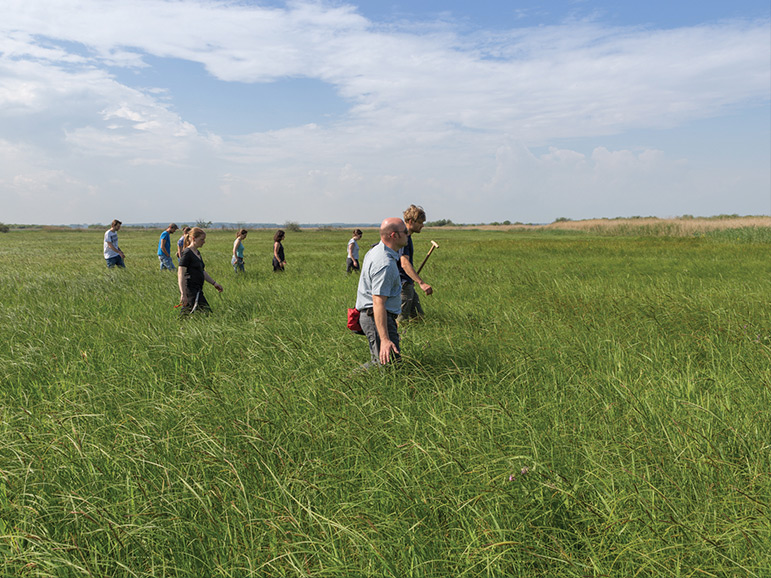 Location: Lake Kummerow, Meck­lenburg-Vorpommern
Vegetation: Reed canary grass and sedges
Yield: Ø 4.5 and. Ø 6 t DM per hectare and year
Area: ca. 300 ha fen meadows (harvestability depends on weather conditions)
Biomass harvest
The fen meadows are harvested once a year between June and September for hay. Harvest depends on good weather conditions and is only possible during dry periods in the summer.
Adapted grassland machi­nery, light tractors with wide tires and a light, fixed chamber round baler with tandem axle ia used for the biomass harvest. A multi stage technique is used for harvesting: mowing, tedding, windrowing, baling, single/double bale retrieval.
The harvested round bales have a diameter of 120 cm and a weight of 185 to 200 kg DM. Each bale equals ca. 85 lt of mineral oil. The biomass yield is about 800 - 1.200 t fuel which equals 350,000 l heating oil.
The distance between the harvesting areas and the heating plant is approximately 12 km.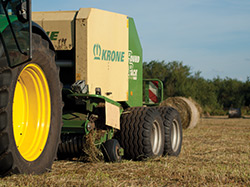 Harvest time: June – September
Biomass yield: about 800 – 1,200 t fuel (4,200 – 6,500 bales)
Energy yield: 14.9 GJ per t FM (w 15 %), equaling 350,000 l heating oil
The heating plant
Burning herbaceous biomass requires adapted boilers. Compared to wood, the high ash content and critical constituents (e.g. Cl, S, N) are a challenge which must be met with e.g. special corrosion protection, moving grids and filter systems.
The biomass boiler is providing heat for the basic and medium load while the existing natural gas boiler is buffering peak loads and down times.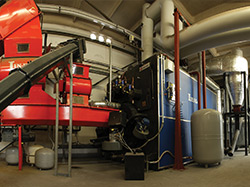 Boiler: Lin-Ka HE 800, modified
Rated power: 800 kW
Heat production: >4,000 MWh per year
Fuel demand: 1,200 t
Investment costs: 640,000 €
State subsidy: 182,000 € (EU-EFRE)
Construction time: 6 months
Commissioning: June 2014
Local cooperation
The realization was made possible through a network of local stakeholders.
Plant operator: Agrotherm GmbH Schwinkendorf,
managing director: Ludwig Bork
Biomass producer: Landwirtschaftsbetrieb Hans Voigt,
Moorhof GmbH
Local energy supplier: Energicos Malchin GmbH
Heat consumer: Stadt Malchin, WOGEMA (540 households,
a kindergarten, two schools, office buildings)
Scientific monitoring: University of Greifwald,
DUENE e.V., Förderverein "Naturschutz im Peenetal" e.V.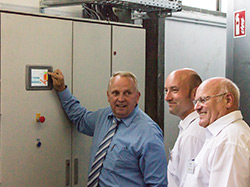 Ecosystem services
The biomass heating plant Malchin combines peatland protection, sustainable energy provision, landscape protection and new perspectives for local added value in a unique way. It is creating several synergies:
Bioenergy substitution of natural gas saves greenhouse gas emissions, approximately 850 t CO2 -eq. per year.
Climate protection avoiding greenhouse gas emissions compared to drained peatlands (appr. 10 t CO2-eq. per hectare)
Water protection avoiding nutrient discharge and eutrophication compared to drained peatlands
Biodiversity maintaining and creating habitats of rare species
Tourism maintaining a diverse, open landscape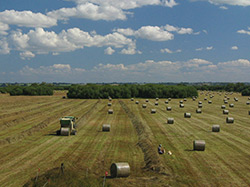 Greenhouse gas emission savings
Bioenergy: 850 t CO2-eq./a
Rewetting: appr. 10 t CO2-eq. /ha*a
Further information & sources
Dahms, T. et al. 2017: Halmgutartige Festbrennstoffe aus nassen Mooren. Universität Greifswald. more...
Dahms, T. et al. (2017): Utilisation of biomass from wet fen meadows in a local heating plant. In Authors' collective (eds.): Proceedings of the 2nd International Conference on the Utilisation of Wetland Plants "Renewable Resources from Wet and Rewetted Peatlands - RRR2017". University of Greifswald. more...
Video about Niedermoor-Biomasseheizwerk Malchin (Youtube). Video...
Webiste of the fen biomass heating plant in the city of Malchin (German). www.niedermoor-nutzen.de
Wichtmann, W., Schröder, C. & Joosten, H. (eds.) 2016: Paludiculture - productive use of wet peatlands - Climate protection - biodiversity - regional economic benefits. Schweizerbart, Stuttgart, 272 p. ISBN 978-3-510-65283-9