Usage
The characteristics of peat moss biomass include a low pH, low content of nutrients, very good rewettability, high storage capacity for water and air, a low weight per unit of volume, low nitrogen mobilisation as well as antibacterial and antifungal properties. Sphagnum biomass has numerous potential applications some of which may not yet even be known.
Replacement of moss peat in horticultural growing media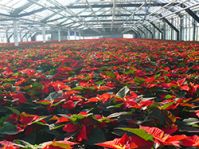 In several research projects focusing on Sphagnum cultivation the use of Sphagnum biomass in growing media was successfully tested for many applications in commercial horticulture: cultivation of ornamental plants and vegetables as well as seed germination, raising seedlings and propagation of stem cuttings.
Exotic ornamental plants

These include orchids, bromeliaceae, bonsai and ericaceous shrubs
So far the peat moss available in the market originates from the Southern hemisphere (e.g. New Zealand, Chile) and has been harvested manually in natural habitats. Prior to sale the material is dried and radiated. The Sphagnum biomass is used for the cultivation of epiphytic orchids and for the propagation of orchid seedlings as well as propagation and covering material for bonsai.
Gardening design & floristic
Dried Sphagnum biomass is utilised in "hanging baskets" or as growing medium for vertical "living walls". Living green Sphagna are used as ornamental moss ("floral moss"), for green sculptures and as ingredient in turf roofs.
Terrariums
In this application the water holding capacity of Sphagnum is utilized in order to maintain a high air humidity within the terrarium. The Sphagna also serve as bedding for egg clutches, moist hiding places, for hibernation and transport of amphibians, reptiles and spiders.
Sphagnum propagules
Apart from propagules for a commercial cultivation of Sphagna, the artificial establishment of Sphagna could present a potential use in the restoration of degraded peatlands.
Further applications
material for bandages and sanitary items with high absorption properties (e.g. Absorbec™ from Johnson & Johnson)
traditional insulating material in buildings such as log cabins
material for decontamination of pollutants (oil, chemicals)
material for transport and packaging of living animals and delicate goods (flowers, fish)
water filtering
pharmaceuticals
cosmetics
degradable flower pots
litter