Paludiculture Newsletter 1|2023
General information and news on peatlands and paludiculture
Paludiculture Exploration – funding and engagement for England
Three percent of greenhouse gas emissions in England come from drained peatlands. A new fund aims to minimize these through paludiculture. Community-based measures will also be supported.
Harakeke – Paludiculture perspectives in Aotearoa, New Zealand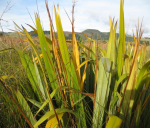 Where Common Reed (Phragmites australis) is considered the worst weed, perhaps Harakeke offers an opportunity for paludiculture? People in New Zealand are starting to think about it.
Peatlands for bookworms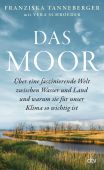 A new book "Das Moor", the Peatland Atlas, a paludiculture implementation guidebook and a 440-page directory of paludiculture plants - all around the Greifswald Mire Centre, the production of reading material is rumbling. From laymen to specialists, there is something for everyone.
Peat ban in United Kingdom
A peat ban in the United Kingdom is expected to come into force in 2024. Already, things are not looking bad in this regard. Supermarkets offer alternative substrates and 15% of the horticultural businesses contacted in a government survey already operate peat-free.
Deceiving good news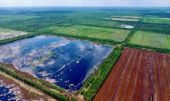 In terms of area, the loss of wet peatlands worldwide is not as great as is often claimed, a recent study in the scientific journal Nature has found. At the same time, it shows that four million km² of wetlands have disappeared, about 0.5 million km² of those are wet peatlands. These cause 4-5% of global greenhouse gas emissions - small area, but big consequence.
A project presented
Paludipilot project for peatland soil protection in four federal states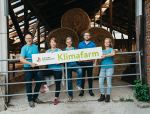 Four long-term pilot projects for peatland soil protection are currently testing in Germany how drained and intensively used peatland soils can be converted to wetland utilisation. Funded by the Federal Ministry for the Environment, Nature Conservation and Nuclear Safety with a total of 48 million euros, these projects for peatland and climate protection are part of the Climate Protection Plan 2050. The PaludiMV, BLuMo, Klimafarm and MoLaKli projects, all managed via Z.U.G., are presented below.
News from other paludiculture projects
Moor must-see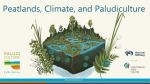 Seven minutes of peatland info with beautifully animated illustrations by Sarah Heuzeroth.
Zukunft Moor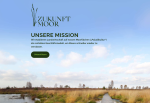 A profitable business model aims to become the large-scale implementation of wet peatland management for and with farmers. This is the goal of the privately initiated project.
Peatlands via app

The audio walk "Peatlands near Greifswald" takes residents to the peatlands of the Hanseatic city of Greifswald - via app. A good example of how local authorities, peatland protectors and scientists can use new media and raise awareness of peatlands and climate among new target groups.
Events
Literature
Borchers, M. et al. (2022) Scoping carbon dioxide removal options for Germany – What is their potential contribution to Net-Zero CO2? Frontiers in Climate. https://doi.org/10.3389/fclim.2022.810343
Czubaszek, R., Wysocka-Czubaszek, A., Wichtmann, W., Zając, G. & Banaszuk, P. (2023): Evaluation of common reed and maize silages co-digestion on methane yield. Energies 2023, 16, 695; https://doi.org/10.3390/en16020695
de Jong, M., van Hal, O., Pijlman, J., van Eekeren, N., Junginger, M. (2021) Paludiculture as paludifuture on Dutch peatlands: An environmental and economic analysis of Typha cultivation and insulation production. Science of The Total Environment Vol. 792. https://doi.org/10.1016/j.scitotenv.2021.148161
del Castillo Torres, D., Alvarado, L.F., del Aguila Pasque, J. (2021) Superalimento amazónico, y los beneficios del manejo y conservación de los "aguajales" para el desarrollo regional amazónico. Parque Gonzales Prada N° 396, Magdalena del Mar Lima –Perú. ISBN Nº 978-9972-778-16-2, Aguaje-Doc (profonanpe.org.pe)
Veröffentlichung Torfabbau und –Nutzung in Deutschland und Europa: ein Flussmodell Hirschler & Osterburg Mires & Peat im Druck
Flanagan, E. et al. (2022) Chronic Consumption of Cranberries (Vaccinium macrocarpon) for 12 Weeks Improves Episodic Memory and Regional Brain Perfusion in Healthy Older Adults: A Randomised, Placebo-Controlled, Parallel-Groups Feasibility Study. Frontiers in Nutrition. https://doi.org/10.3389/fnut.2022.849902
Gerschler, S., Guenther, S., Schulze, Ch. (2022) Antibiofilm Activity of Sundew Species against Multidrug-Resistant Escherichia coli Strains. International Journal of Molecular Sciences. Vol. 23. https://doi.org/10.3390/ijms232213720
Haldan, K., Köhn, N., Hornig, A., Wichmann, S., & Kreyling, J. (2022). Typha for paludiculture—Suitable water table and nutrient conditions for potential biomass utilization explored in mesocosm gradient experiments. Ecology and Evolution, 12, e9191. https://doi.org/10.1002/ece3.9191
Haldan, K., Kuprina, K., Haase, M. I., Kieckhäfer, F., Schade, L., Schmoldt, J., Schock, L. S., Stein, A., Wille, A., Schnittler, M., Bog, M., Kreyling, J. (2023) Choose Wisely: Great Variation among Genotypes of Promising Paludiculture Crop Phragmites australis. Plants 2023, 12(5), 1045. https://doi.org/10.3390/plants12051045
Hemingway, A. W., Wilcox, D. A. (2022) Response of Typha to phosphorus, hydrology, and land use in Lake Ontario coastal wetlands and a companion greenhouse study. Wetlands Ecology and Management Vol. 30. https://doi.org/10.1007/s11273-022-09885-1
Hinzke, T., Tanneberger, F., Aggenbach, C. et al. (2022) Response Patterns of Fen Sedges to a Nutrient Gradient Indicate both Geographic Origin-Specific Genotypic Differences and Phenotypic Plasticity. Wetlands 42, 113. https://doi.org/10.1007/s13157-022-01629-4
Neubert et al. (2022) Endbericht PaludiPrima https://www.fnr.de/ftp/pdf/berichte/22026017.pdf
Jensen, A.B., Eller, F. (2020) Hybrid Napier grass (Pennisetum purpureum Schumach × P. americanum (L.) Leeke cv. Pakchong1) and Giant reed (Arundo donax L.) as candidate species in temperate European paludiculture: Growth and gas exchange responses to suboptimal temperatures, Aquatic Botany Vol. 160. https://doi.org/10.1016/j.aquabot.2019.103165
Kuptz, D. et al. (2022) Combustion behaviour and slagging tendencies of pure, blended and kaolin additivated biomass pellets from fen paludicultures in two small-scale boilers < 30 kW. Biomass and Bioenergy Vol. 164. https://doi.org/10.1016/j.biombioe.2022.106532
Lahtinen, L., Mattila, T., Myllyviita, T., Seppälä, J., Vasander, H. (2022) Effects of paludiculture products on reducing greenhouse gas emissions from agricultural peatlands. Ecological Engineering Vol. 175. https://doi.org/10.1016/j.ecoleng.2021.106502
Lindsay, D. L. et al. (2023) Genetic analysis of North American Phragmites australis guides management approaches. Aquatic Botany Vol 186. https://doi.org/10.1016/j.aquabot.2022.103589
Liu, W., Fritz, C., van Belle, J., Nonhebel, S., 2022. Production in Peatlands: Comparing Ecosystem Services of Different Land Use Options for Intensive Dairy Farms. SSRN Journal. doi:10.2139/ssrn.4122062. https://www.researchgate.net/publication/360929347_Production_in_Peatlands_Comparing_Ecosystem_Services_of_Different_Land_Use_Options_for_Intensive_Dairy_Farms
Norris, J., Matzdorf, B., Barghusen, R., Schulze, C., van Gorcum, B. (2021) Viewpoints on Cooperative Peatland Management: Expectations and Motives of Dutch Farmers. Land Vol 10. https://doi.org/10.3390/land10121326
Oostra, M. et al (2022) Developing a new circular value system around Thypa sandwich panels. IOP Conference Series: Earth and Environmental Science 1085. https://iopscience.iop.org/article/10.1088/1755-1315/1085/1/012054/pdf
Pratiwi, D., Yuwati, T. W. 2022: Paludiculture: peatland utilization to support climate change adaptation. IOP Conf. Ser.: Earth Environ. Sci. (IOP Conference Series: Earth and Environmental Science). https://iopscience.iop.org/article/10.1088/1755-1315/1109/1/012001
Pinho, H. J.O. & Mateus, D.M.R. (2023): Bioenergy routes for valorizing constructed wetland vegetation: An overview. Ecological Engeneering. https://doi.org/10.1016/j.ecoleng.2022.106867
Samsudin, Y.B.; Adzani, T.; Ramadian, M.A.; Naito, D.; Baral, H. (2021) The potential of agarwood as a climate- resilient livelihood option in Indonesia. The potential of agarwood as a climate- resilient livelihood option in Indonesia - CIFOR Knowledge. DOI: https://doi.org/10.17528/cifor/008260
Temmink, R. J. M., Lamers, L. P. M. , Angelini, C., Bouma, T. J., Fritz, C., van de Koppel, J., Lexmond, R., Rietkerk, M., Silliman, B. R., Joosten, H., van der Heide, T. (2022) Recovering wetland biogeomorphic feedbacks to restore the world\&\#x2019;s biotic carbon hotspots. Science vol. 376 Nr. 6593. https://doi.org/10.1126/science.abn1479
Tommila, T., Kämäräinen, A., Kokko, H., Palonen, P. (2022) Sphagnum moss is a promising growth substrate in arctic bramble container cultivation. Acta Agriculturae Scandinavica, Section B — Soil & Plant Science 72. https://doi.org/10.1080/09064710.2022.2138778
Verlaque, R. et al. (2023) New highlights on Old World giant Phragmites (Poaceae) using leaf and floral bract microscopic characters. Aquatic Botany 186. https://doi.org/10.1016/j.aquabot.2022.103591
Vroom, R.J.E., Geurts, J.J.M., Nouta, R. et al. Paludiculture crops and nitrogen kick-start ecosystem service provisioning in rewetted peat soils. Plant Soil 474, 337–354 (2022). https://doi.org/10.1007/s11104-022-05339-y
Wichmann, S., Nordt, A., Schäfer, A. (2022): Lösungsansätze zum Erreichen der Klimaschutzziele und Kosten für die Umstellung auf Paludikultur. Hintergrundpapier zur Studie "Anreize für Paludikultur zur Umsetzung der Klimaschutzziele 2030 und 2050".
Yuwati, T.W. et al. (2021) Restoration of Degraded Tropical Peatland in Indonesia: A Review. Land. https://doi.org/10.3390/land10111170
Zak, D., McInnes, R.J. (2022) A call for refining the peatland restoration strategy in Europe. Journal of Applied Ecology Vol. 59. https://doi.org/10.1111/1365-2664.14261
Zitzmann, F. (2023) Schilfanbauflächen als Lebensraum für Röhrichtbrüter? Naturschutz und Landschaftsplanung 55 (02) S. 26 – 35. https://doi.org/10.1399/NuL.2023.02.02